Looking for a top-quality oil change service with advanced protection? Look no further than our expert team! Our comprehensive Gold Oil Service includes:
Changing your engine oil with only the highest quality oils and filters
Replacing your filter to ensure optimal engine performance
Lubricating your chassis to keep your car running smoothly
Performing a multi-point inspection to catch any potential issues before they become major problems
Topping off all your fluids to keep your car running at peak performance
Installing BG MOA® to keep your engine running like new
Install BG CF5® Fuel System Cleaner

 

Trust our team to keep your car running smoothly and efficiently for years to come.
  Contact us today to schedule your appointment!

*Eligible for the BG Lifetime Protection Plan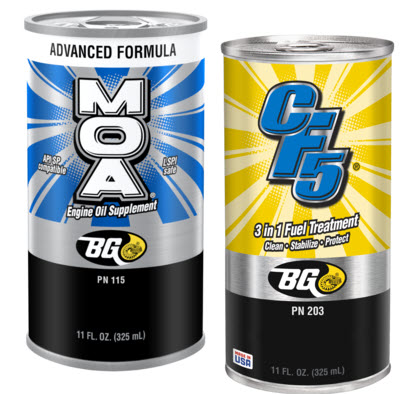 BG MOA® prevents oxidation and thickening of engine oil under even the most severe stop-and-go, high temperature driving conditions.  It helps to prevent sludge buildup and reduces engine wear to provide superior long-lasting engine protection and helps maintain optimum engine performance. BG MOA® keeps piston ring belts, hydraulic lifters and other engine components clean to help extend engine life and reduce costs of operation. It is compatible with both synthetic and petroleum-based oils.
BG CF5® Carbon fighter gasoline supplement is a unique, high-tech formulation designed to provide deposit control throughout the life of the engine. Added to vehicle fuel tank every 5,000 miles, BG CF5® will keep intake manifolds, intake ports, intake valves and combustion chambers clean and free of damaging deposits. Maintains "like-new" engine performance. Catalytic converter and oxygen sensor safe.