BG COOLING SYSTEM SERVICE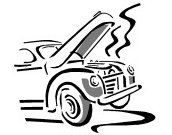 DID YOU KNOW THAT COOLING SYSTEM FAILURES ARE ONE OF THE LEADING CAUSES OF ON-THE-ROAD MECHANICAL BREAKDOWNS?


The BG Coolant Transfusion System dissolves and removes scale, corrosion and rust from the cooling system, while simultaneously installing the new coolant. This fluid service will remove the old coolant and replace it with new coolant without entrapment of air within the system. This service is completed by adding a specialized conditioner to the new coolant to protect the cooling system components. This service results in a cooler running engine and a prolonged lifespan for the cooling system components.
WHY WOULD I NEED A COOLING SYSTEM SERVICE?
Over time coolant breaks down, changing its chemical base composition to an acid. This causes the coolant to eat away at internal engine parts, seals, hoses, and gaskets. The resulting buildup of rust, scale and sludge blocks passageways and decreases the efficiency of the cooling systems which causes premature engine failure.  Don't wait until the damage has already been done!  Schedule your cooling system service now.