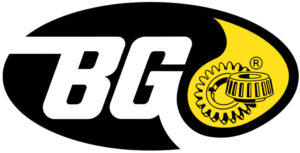 BG 44K FUEL
SYSTEM CLEANER

Poor quality gas can cause deposit buildup, inefficient ignition and combustion and poor power output.  Even small amounts of deposits can cause increased exhaust emissions, reduced fuel economy, drivability problems and engine knock..  
BG Platinum® 44K® cleans the entire fuel system, including fuel injectors, fuel filters, and combustion chambers. Because it provides efficient removal of upper engine deposits, BG Platinum® 44K® reduces problems caused by deposit buildup such as engine surge, misfire, stumble, hesitation and power loss. BG Platinum® 44K® provides quick cleanup of coked fuel injectors and corrosive deposits on the Fuel Sending Unit.
It restores power output, engine performance, reduces engine knock or run-on tendencies, improves combustion performance, removes accumulated deposits from oxygen sensors, and it's effective in cleaning catalytic converters.  Don't delay!  Schedule your fuel system cleaner service today!